After all the talk of the amazing openness and vulnerability that I wish for from my submissive, I've been considering posting something that shows me at my most vulnerable. It is scary, the showing, even though it doesn't really matter because the actual terrifying part of doing it is already done, is over.
I rarely take emotional risks, and when I do, they are quiet risks, whispered into someone's ear, tentatively put on the table for the taking, and this was a quiet risk also. It is the sharing that makes it noisy and loud; that gives me pause, though it is tapping insistently on my ribcage and calling me out for hypocricy.
I am not good at it, taking risks, opening up what is bleeding, exposing my soft underbelly, and I rarely have the compulsion or desire to do it. It has to feel like *need*, and even then, the *need* to do it has to be extraordinarily strong, and when the need is there, it does feel compulsive, like something ticking in me obsessively, something that simply will not be willed away, will not be ignored.
I will ignore it, though, for as long as I can, in the hope that it will go away if I don't look directly at it. Sometimes it refuses to go away, it will plant itself at my feet, make roots, settle in and grow happily, sometimes with sharp and spiky thorns, sometimes with stunning heartbreakingly beautiful flowers, and it will bloom there, patient as the gods, and wait for me.
Despite my reluctance to go there, I have found, and I wonder how true it is for others, that finally opening up and bleeding all over the floor feels like a kind of strength, and I recognise that it is a smidgeon (oh, such a tiny one!) of the strength I so admire in submissives. For me, I don't think it is the 'making myself vulnerable' that feels like strength as much as getting over the fear of it. And as I say that I am very aware that vulnerability for me also feels like a terrible weakness, I wish it didn't and I don't see it that way in others, and I know that makes no sense, but sometimes what we feel doesn't really make sense. It just is.
There is a ceremony that the Thai do, where they create floating lanterns, light, rice paper constructions into which candles are placed and lit. The heat lifts these lanterns into the the sky; they are symbolic of problems and worries floating away. There is a sense of doing that for me when I give in to this need and finally send my vulnerability out into the world.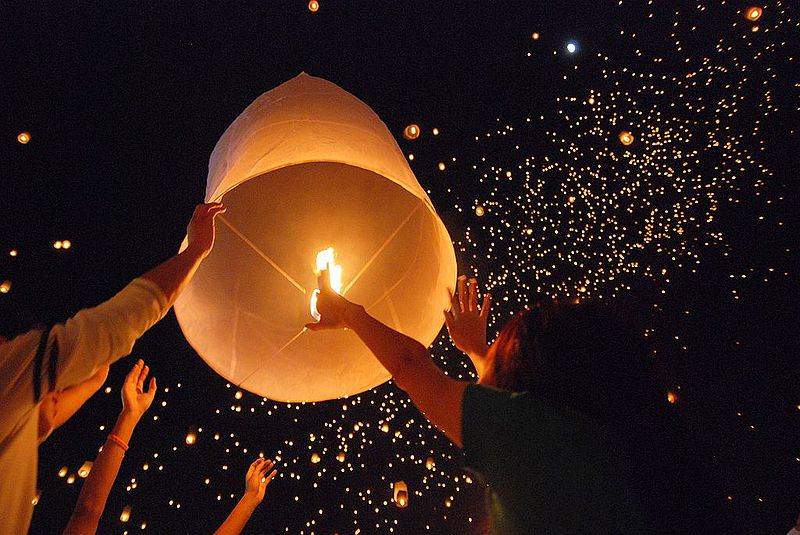 I expect my having done it to make no difference to anything, and that's ok. I have put myself out there, into the ether, and that is enough. And it is enough.
I am working up the courage to share it, which makes me shake my head and laugh at myself.
I am being cryptic, I know, but dipping a little toe into the cold, black, swirling water and admitting that some things are hard to share is a start.