A huge thank you (again!) to everyone who participated in my recent survey. There were around 250 respondents (wow!). That's a considerable increase over last year (see, if I had done a graph, that would have been a much more interesting factlet!).
My blog has changed quite a bit in the last year, as have my circumstances, so I was keen to see how that was reflected in the responses. Personally, I have become more open, I think, in what I share, however I also have less sexy sex blog content due to the fact that I ain't gettin' any and for that, you all have to pay!
So here we go with the first of the graph porn… wheeee… graph porn!!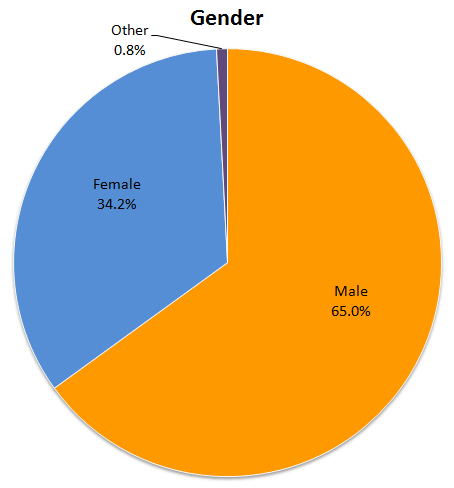 This is relatively similar to last year, the 0.8% 'other' group included genderfluid and genderqueer. Oddly, there was also someone who said 'neither' then self identified as a male (bless your little cotton socks…).
___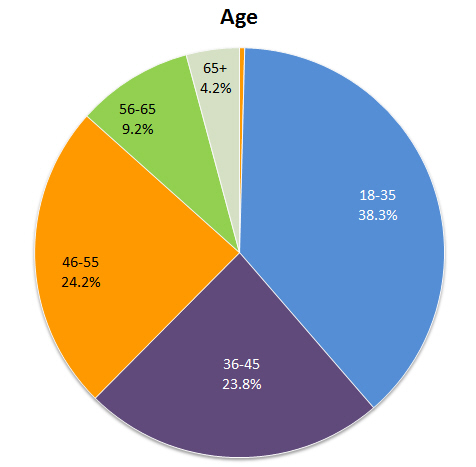 My readers overall are a little older than last year, with slightly fewer 18-35s and a pretty even spread of increase in the older age groups. The tiny little sliver is a young 'un of whom we shall not speak (go and do your homework, young man!!).
___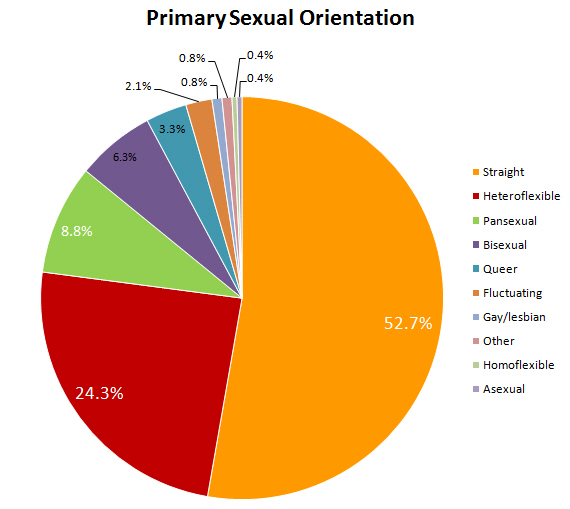 There was an increase of about 4% in straight readers, which I guess makes sense given that I identify as straight. There was a corresponding decrease spread over the other categories.
___
Significantly fewer switches (nearly 10%) and almost a corresponding rise in submissives (7%). Go on, admit it. I made you switches change your mind, didn't I? No need to answer, I know it's true…
___
So now to put some of this together, you folks look like this (aren't you pretty?!):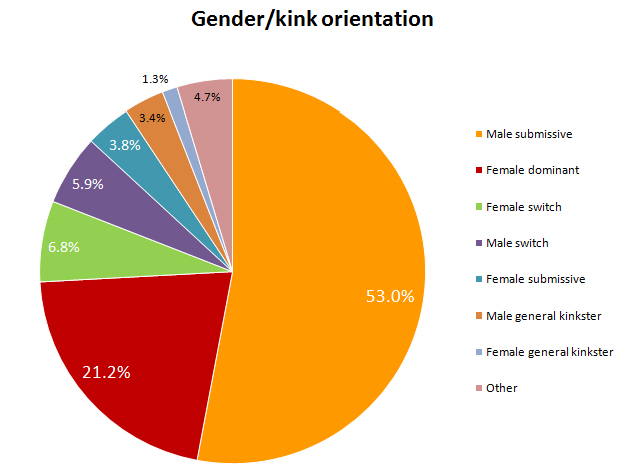 More boys more boys more boys!!! There are now 10% more submissive men reading (hello there!) than last year. The number of dominant women is about the same. Fewer switches and general kinksters…
___
A little closer look at the male submissives and female dominants specifically as the biggest groups now.
Of the male submissives, about 65% are straight, and about 25% are heteroflexible. Just over 31% are aged between 46-55 and about 29% are between 18-35. About 18% are in my age group of 36-45. This split is nearly exactly the same as last year. I find it a little odd… where are the men from 36-45? Should I become a cougar?
Overall, the female dominants are a bit younger, with about 40% in the 18-35 age group and about the same in the 36-45 group. About 40% are straight, with about 22% being heteroflexible.
As a note, my dominant male audience has grown by 100%, there are now two of you! Yay!!
---
There will be more graph porn to come (yay!), and of course the free text fields are really the most fun, but there are the basics
*~happy graph porn sigh~*
.