Sometimes it looks like this: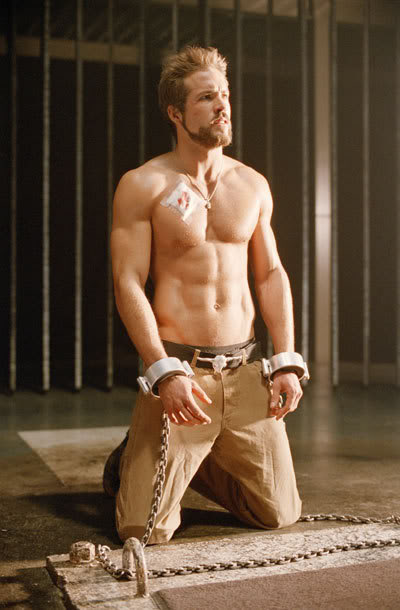 It's just not enough is it…? I know I know… so I also have this:
I can't just leave it at that, of course… I have to TALK about it!
It's not 'stomach lurching, ooh must go masturbate' porn, it's more
– oh my, look at him…
– I love it when he tries to get up and gets jerked back by the chains…
– his face…
– the sound he makes when he gets up after being kicked…
– his expression then…
– how she grabs idly at his hair, almost affectionate…
– his exhalation (play that again, did you hear it?)…
– that view from the back, chastened, but not beaten…
– the soft moan…
– defiance…
– his low slung pants…
– the abs (didn't need to say that did I?!)…
– the way he comes back to kneeling over and over…
– the little grunt when he gets hit upside the head…
– his position, palms up, when he says "then presto"…
– how his whole body reacts to her slap…
– did he just spit blood?…
– doubled over after she kicks him, groans…
– love those shoes…
Fuck…
He's pretty…
It works for me because he can act, because the scene is about restraint and helplessness and suffering, because he gets hurt and endures it, because he kneels and keeps getting up to kneel again, because he's in trouble and trying to pretend he's not, because he makes beautiful little sounds of pain and strength, because all of that gives me enough fodder to create an entire story in my head about him that has nothing to do with what is on screen.
Except for him, he is pretty.