A malignant narcissist brings a country to its knees.
One angry femdom has had enough.
By the time she's done with him, she will have changed everything.
I'm delighted to give you the first look at the cover for 'Rage: Retribution' (well, fine: the second look for anyone who's on my mailing list since you've seen it already :)).
About the book
A millionaire reality-TV star somehow becomes president. He unleashes a new age of ignorance and hatred upon the country, tainting everything he touches with his own particular flavour of corruption and greed. He lies to the people, applauds violence, punches down at the powerless, attacks those who stand against him, practises the unthinkable with impunity
A dominant woman watches it unfold in a tableau of horrors, watches him erode every value her country previously stood for.
He represents and encourages the worst of humanity, and each time it seems that he cannot sink any lower, that it cannot possibly get worse, he demonstrates that he can and it does.
Her anger builds until it's a blinding white-hot rage that consumes her, until she simply cannot bear another second of it.
ENOUGH IS ENOUGH.
A femdom driven by rage is a force to be reckoned with, and she's coming for him, no holds barred.
She's determined to change everything, no matter what it takes.
The cover
I'm in love with the cover for so many reasons. It could only be more perfect if she had rage-spit flying out of her mouth.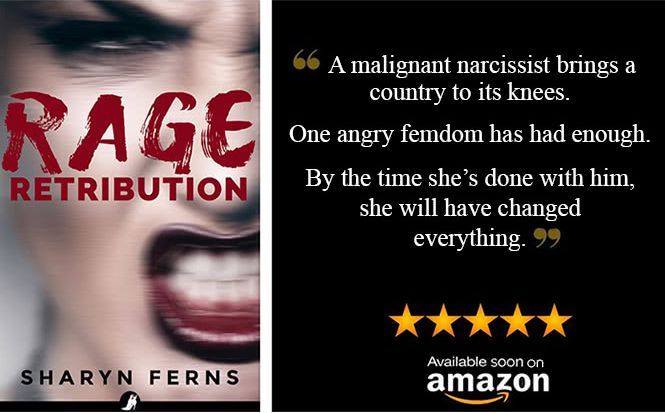 Release details
It will be released in early December 2018. I'm both excited and scared about it, if I'm honest. This story is not only my first piece of fiction, it's so far outside of anything I normally write about that it's a little terrifying.
Join my mailing list so you don't miss out on the introductory price.