Behold the beauty of my new 'Happy Femdom Stories' book!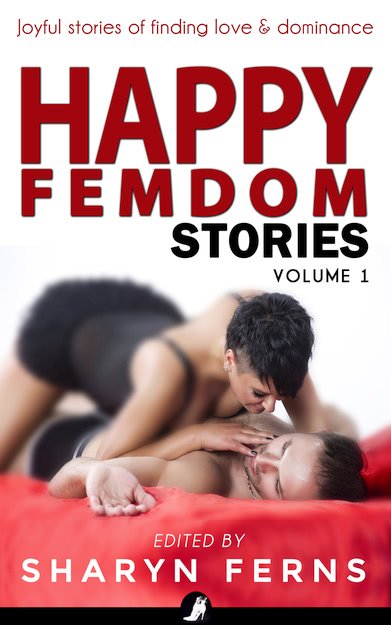 The book is full of joyful stories from F/m folks talking about how they found their partners and what happened next.
In 2011, I did a call out on my blog asking dominant women and submissive men to send me their happy femdom stories and they responded with beautiful accounts of their relationships. In this book, I share 25 heart-warming, joyful, and hopeful real-life femdom relationship stories gathered from people who live them.
The authors tell personal stories of meeting their F/m partners, building their femdom relationships, and how it feels to be living in their relationships with the ones they love. Some are new relationships, some over 20 years in the making, some will soon marry. All unique, intimate, and fascinating.
These stories are genuine experiences from real people involved in F/m relationships: Each is unique, all are positive and uplifting, affirming and illuminating.
Their bright shiny experiences give us hope and show us possibilities, and if that's not important, I don't know what is.
—
To the contributing authors
Thank you so much for allowing me the privilege of sharing your stories: I very much appreciate your generosity and grace.
You'll recognise some fabulous bloggers' names in the mix of authors: Stabbity (Not Just Bitchy), Axe (unspeakableAxe & Masocast), Tom Allen (Edge of Vanilla) and Eiren & Berkson (Prick Your Finger) all contributed their wonderful stories.
I have put 25 stories in the book: This is not all of the stories I've received, and if you hoped or expected to see your story in this book and it's not, I haven't forgotten you!
I'm hoping that the release of the book will prompt an influx of more happy femdom stories, and when (if!) it does, then I will have an opportunity to compile them all into a second book. I figured if I put all of the ones I already have in book one, then I would have to wait another 5 years to have enough for a second one, so I strategically held some back in the hope that new stories will quickly flesh it out (this is the kind of overthinking that leads to me taking months to do what should take weeks… :P).
On that note, if you have a story that you are willing to share, I'd love to hear it. Please check out my call out post for details and send it on to me :).
—
On FREEBIES!
It's on Amazon right now BUT DON'T GET IT YET (made myself laugh: an indie author telling people not to buy their book… UNTHINKABLE!).
I mean you can, of course, but my plan all along has been to give it away for free.
I have discovered that Amazon does NOT let me just list a book for free (this is inexplicable since there are a gazillion free books on there :/). There are very restrictive rules around when and how I am allowed to offer my book for free and they are further restricted because I'm not American, so some options are not available to me.
The book is currently 99c which is the lowest price I can set, but I'm working on making it free and will be asking some of you for help with that jiggery-pokery (shhh sekrit bzns). There are other non-Amazon options to give away the book of course, but as the main game in town, I really REALLY want it to be free on Amazon.
I will shout very loudly about it when the freebie is live so you can grab it then.