I know it is both ridiculous and frivolous, but its the truth nevertheless.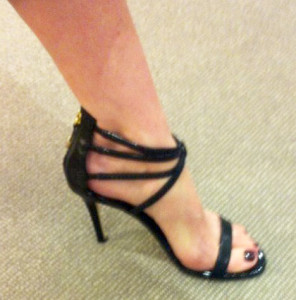 I miss that feeling of slipping my foot into them, perhaps having to do a little wiggle to get them on. Looking at that arch that gets emphasised by the elevation of the heel. Carefully fixing the placement of straps and doing up a tiny clasp against my ankle. That moment when I stand up to my full height, stretching to a generous 6'3 and suddenly feeling like some Amazon queen. I enjoy the exaggerated length it gives my legs, like they go on forever. And when I walk in them, I get that particular gait, that long-legged, hip-swinging swagger, so different from the carelessness of my stride when I am closer to the ground. I feel like some thoroughbred stallion (always a stallion), some powerful beast that is stalking amongst humans.
I miss all of it.
A few years ago, my lifestyle changed and with regard to shoes it meant two things:
I was no longer passing by fabulous shoe shops daily so I no longer have those many (many!) opportunities to meander in and try on amazing shoes and (inevitably) buy just one more pair that I really don't need

I was no longer constantly going to places where wearing fabulous-amazing shoes was appropriate
Now with the second, I can hear you all saying 'who CARES what's appropriate?!' but of course if I'm wearing gorgeous sky high heels, I have to wear an outfit that looks great with sky high heels, and before you know it, I look like a slightly deranged person wandering around my small town supermarket dressed as if I think I'm in Sex and the City. And it's probably no surprise to anyone that that doesn't make me feel how I want to feel when I'm swanning about in wonderful heels.
To my disappointment, I can't even wear them at home just to get some goodness out of them because my glossy floor tiles are dangerously slippery and I can barely stay upright in smooth-soled beauties with teeny stiletto heels. I vaguely worry that I will slowly lose the ability to walk in them given I wear them so rarely these days.
So inevitably now, when I go somewhere where fabulous heels are even in the remotest realms of possibility, I'm plucking some out of my shoe tower and slipping them on.
And when I pass by places that sell beautiful shoes, I'm in there like a shot to try them on, but I rarely buy them because I know they will just sit in my ivory shoe tower like some sad, neglected throw-aways.
*sigh* I miss them.