** Spoilers for Mad Max: Fury Road **
I'm not a Mad Max fan. The main reason I wanted to see Fury Road was because of the amusing outrage of MRAs (Men's Rights Activists). Any movie that outrages some dudes for being 'feminist propoganda' has to be worth seeing, right?
I'm not going to review the movie (loved it!) or talk about whether it's feminist or not (strong female characters, aw yeah!). What I want to talk about is how moments in it reflect exactly what I want to see in stories showing female dominance. I'm not pretending it's a femdom movie, but fuck if there aren't some broad themes and, in particular, some moments out of which someone could develop an entire F/m story.
In this movie there are moments where Max (Tom Hardy) follows simply because Furiosa (Charlize Theron) leads, and neither of them question it or make a big deal of it. It's those moments that most beautifully illustrate the nature of their relationship and fire my imagination.
There's a scene where they are watching a pursuing truck approaching in the dark. They have only a few bullets left for their scope-rifle. Furiosa watches Max as he kneels by their 'war rig' and takes 2 shots. He misses both times. She goes over and kneels behind him. He glances over his shoulder. Neither of them say anything. He just passes the gun behind him to give it to her. She takes it, rests it on his shoulder.
"Don't move," she says*.
She takes the shot. Hits the vehicle.
Why do I love that so much?
Because they both know she's better than him. He thinks he can do it, he gives it his best shot, but when push comes to shove, he recognises that she's better than him and he doesn't question it. She doesn't have to shout about it or say anything. They both just know and they behave accordingly.
It fits with what I said recently to a writerly friend about how I want to see a depiction of a femdom relationship: they are both badasses, she's just MORE of one. Those are the kinds of interactions that show that. Max doesn't have to diminish himself or somehow be 'less than' to recognise it. Nor does he have some huge struggle with it ('waaah, she's better than me… MY MANHOOD IS SHRINKING' *commence alpha chest beating waves of insecurity*).
The other (possibly more pivotal, but not as powerfully romantic (yes, I called it romantic!)) moment is when she stops their truck in a valley and says "I need you" to Max. She tells him she needs him to drive, shows him the kill switch for the engine, and gives him the instruction to go when she says go, then she steps out of the vehicle to deal with a motorcycle gang. And he just does what she says and neither of them question whether he will or not: He will.
And I absolutely ADORE that I see those moments in this movie. Love and adore it.
And the sad thing is that I love and adore it so much because we NEVER see this kind of thing portrayed anywhere ever.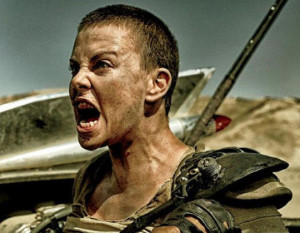 And Theron: man, she's so fucking good.
And while she is (of course) heart-stoppingly beautiful, that's not at all the POINT (no tits, no arse, no coy sex appeal, no revealing outfits, and she has a physical disability: I could faint from pleasure), so when I say to my writerly friend "don't talk to me about how flawlessly beautiful the femdom character is and don't make THAT where her power comes from", THAT'S what I mean. If Furiosa were a femdom character in a book she'd have that crew cut, that mechanical arm, that practical outfit, the warrior grease on her face, she's strong, she's determined, she sweats, she gets dirty, she's smart, she's fearless, she kicks arse, and she's taking no shit, and THAT would be why some amazing man would kneel for her.
Also, in case you are interested in this kind of thing, Max gets captured, tied up, force-tattooed, caged, put in an iron mask, and strapped to the front of a war boy's souped-up car as an object to be used.
*happy sigh*
___
* Edited to add: Someone just informed me that she doesn't say 'Don't move', she says 'Don't breathe'. Oh. My. God. LOVE. *swoon*