I just read this post on Ann St Vincent's blog, and it prompted more thoughts on habitual patterns of behaviour.
It's easy to see patterns from the outside. So very easy.
People you know choosing the same kinds of partners (emotionally unavailable, clingy, distant, unreliable, incompatible etc etc), having the exact same interactions, running into the exact same problems over and over and over.
When you read a blog where someone shares their life, it's all there in black and white, and you can sometimes watch them making the same mistakes over and over and not learning from them because they just can't see it. It can be like watching a slow motion train wreck where your little voice whispers, "Oh dear, here we go again…", but you can't look away.
Sometimes it's so very frustrating, and goodness knows I've done my share of leaving comments that are the equivalent of grabbing people by the shoulders, shaking them and yelling "FOR FUCK'S SAKE, STOP IT!" Even though it's none of my business, and it probably doesn't help at all.
When you are *in* it, every situation feels unique and special and different and you don't (can't) SEE the patterns of behaviour that are cycling back yet again.
Or, perhaps worse, you CAN see it, but you somehow can't stop yourself from doing it even if you recognise it.
I have a terrible memory, truly appalling. So I never see patterns of mine unless they are intentional.
This exchange on Twitter made me laugh because he was 100% spot on, and honestly, I had no clue that I did this procrastinating behaviour EVERY TIME.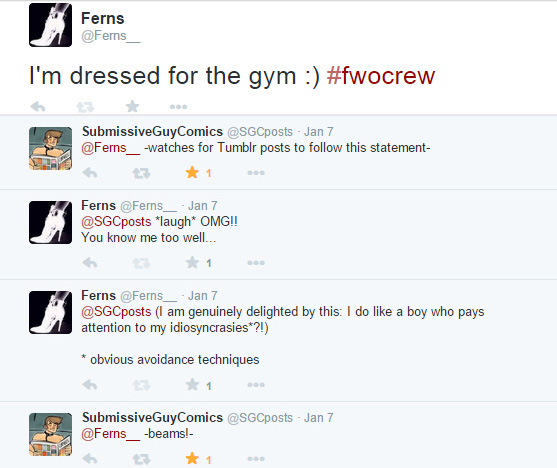 *laugh* SubmissiveGuyComics is so adorable! Digression.
So here's a question for those of you who have been reading my blog for a while: Do you see any negative patterns of behaviour that I seem to fall into over and over? I'm genuinely curious.
And I promise I won't bite your head off for saying it out loud. Pinkie promise! *smile*