I was halfway through my workout when a guy started doing wide grip pull ups 1.
They are my absolute weakness when done slowly, with full control, to failure. Watching his muscles work, then watching him tire, and seeing him strain to get the last few in, the struggle, the determination, and the inevitable fail-point when he couldn't lift himself again, but he would *still* try for that last one. So fucking beautiful. Guh!
I try not be be obvious about it, but sometimes when men are doing these extraordinary things with their bodies, I just stare, transfixed. I can't help it. I am lucky that at least at the spot where men do pull ups, there is no mirror, so they (mostly) can't see me rudely staring while they are working out. I am not subtle.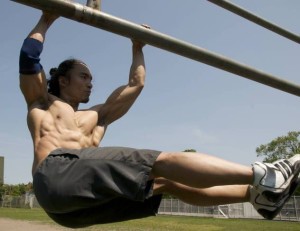 Then the same guy, young, not huge, but with a lovely fit, muscled body, did perfectly controlled wide-stance burpees. I could not look away. The spread legs, the slow descent to the floor, the wonderfully controlled sprung-steel leap back into a crouch, and the lift off the floor. Oh. My. God.
As if this wasn't enough, he followed this with hanging windshield wipers which I have never seen before. I wonder if I was slack-jawed watching him.
And then he repeated the set *dies of pleasure*.
I was trying to do my workout while keeping him in my sight-line, awkward. So stunningly hot. So worth it.
I am trying to articulate what it feels like to watch a boy do this with his body. It is awe and wonder and deep appreciation for the beauty of it, of him. It's not lust, even though he is almost unbearably sexy in it. It feels like watching art: physical, sweaty, straining art. And it is more than that. It is watching him push himself as hard as he can go, watching him convince himself he can go harder, watching him fail, forced to give up. The fail-point is the sexiest thing ever.
In the meantime, while this beautiful boy is working in my peripheral vision, I feed on the energy he gives me without even knowing it. I'm working hard, earphones in, music blaring. Machine bench press to pushups and back. My arms are weak. I push myself hard. It shows: I self talk, sometimes my mouth moves ("two more… two more…come on…!"), I grit my teeth, I snarl, I go as hard as I can.
I look up at the end of a set. A man is talking to me – he's short, bald, built. I take an earbud out thinking he probably wants to work in with me.
He smiles, "Using anger, that's good…"
I smile back. "I don't think that's anger as much as exhaustion."
"Well, I can see you using something… anger, passion, something… it's good…"
I laugh a little, hold up my earbud. "Yeah, something like that… I'm always worried that I'm making noise. I can't hear a thing with these in…"
"No no… you're fine! Whatever's on that," he nods at my ipod, slipped down my gym top, "… it's totally working…"
"Thanks…" I smile again, and put the earbud back in signalling the end of the conversation. I'm really not interested in socialising at the gym.
When I finish my workout, I gather myself, drinking a protein shake before heading home. Short-bald-built guy comes over and makes idle chat, which ends with him introducing himself. Hello Shane. We shake hands. I am flattered, but I hope that this is not somehow going to become awkward when he wants me to make nice every time we are at the gym together (the gym is a hotbed of idle chatter and socialising, which I have managed to avoid with earbuds and scowling, so far getting away with a polite nod to the people I see over and over again).
Regardless, I leave the gym feeling amazing. Strong, energised, happy. I want to blast music and dance wildly. I want to kiss and fuck and smack someone around.
What is this energy? Is it sexual? Honestly, I don't know. And why did this man approach me today? Am I wafting some 'come hither' pheromones after watching the beautiful boy? I've noticed before that when I am sexually energised, I DO get approached by men when I am pretty much unapproachable most of the time. I'm not sure how that works exactly, but I've experienced it enough to know it's true.
As I head home, I feel like I am firing on all cylinders, I feel like I am crackling with it.
Well hello there, me.
—
1 Do you know how hard it is to find youtube clips of men doing exercises to failure? Really hard! Apparently failure isn't the done thing, so nobody gets to the fail-point on video.