I mentioned in this post that I have two strap-on harnesses. I've since had a few women ask me which they are and what I think of them, so I thought I'd write a post to talk about it.
Firstly, I have to stress that I am not some sort of pegging 'expert': I have no special knowledge or insight, and I really haven't tried a lot of harnesses. I'm just sharing my experience in case it's useful, and I'm hoping you will share yours also.
When I first wanted to try a strap-on, I had a single aim with the harness: to have as little between me and him as possible. I wanted to feel his skin against mine while I was fucking him, I wanted to be as close to him as I could get, I wanted to feel like my cock was part of me, and not an added-on piece of bulky equipment.
* Click product names in headings for link to a product page.
** Edited to add that the harnesses are pictured with cocks for illustrative purposes only. Cocks not included (Tantus Bend Over Beginner is an exception). Batteries also not included. Nor are the models or the mannequins…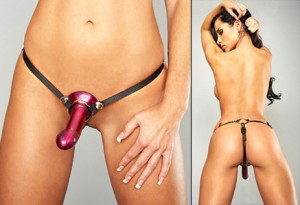 I bought this harness on the recommendation of Sinclair Sexsmith – a kinky queer butch top who reviews loads of products. It was one of her favourites, and the closest to 'nothing between me and him' that I could find.  It is incredibly cheap, made out of nylon webbing, very lightweight, and washable. The O-ring is removable, so you can replace it with a different size if you want to. It's a great inexpensive option to 'just try it out' (vs spending $100 and then finding that you actually aren't that keen on strap-on play).
Downsides: It's not hugely comfortable since the straps are quite stiff, and if you are very active, it's not all that stable. I thought that the single strap might rub my clit just right for great effect (one of the pluses that Sinclair talked about), but it doesn't.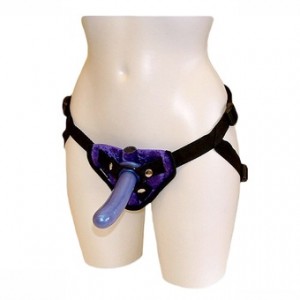 I bought this one specifically for the ability to add a bullet vibe, because (unsurprisingly) I wanted to come while fucking him. This one is also nylon, and is machine washable, with a jock strap style rather than a g-string style. It is comfortable, and much more stable than the other. I assume that you can buy the harness separate from the kit since I'm pretty sure I didn't buy the entire kit, but perhaps they have changed their marketing and it's only available in kit form now. If you need to buy a kit, there is also the intermediate version (same harness, bigger cocks): Bend Over Intermediate.
Downsides: I'm not so keen on the look of it, it's a little too 'plush toy' for my liking (what *was* I thinking?!), and the vibe thing doesn't work for me anyway. Boo hiss!
Possible future buys
** Edited to add photos of the harness sans cock… the cock does not come with the harness, cock perves!

I already mentioned the Spareparts Joque in my previous post. It's not that pretty to me (yes, yes, I know the photos are HOT, but seriously, you could put those models in gold velour granny-pants and they would look hot!), but if you read the reviews on it, they are overwhelmingly and glowingly positive. It has a spot for a vibe, and is apparently very stable and hugely comfortable.
When I think about this one, I picture wearing it out under jeans, coming home, undoing my zip quickly, shoving a cock in there and snarling "Suck this, bitch!" within 2 minutes of walking in the door… Guh!
ETA: I did buy this one and it's pretty amazing. Beautifully made, very comfortable, very stable. A great buy.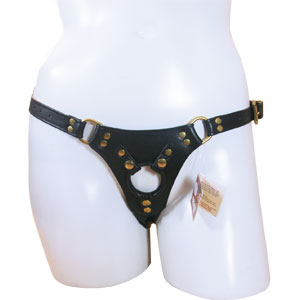 I love the Aslan Jaguar, and in fact the Aslan Minx might be even prettier with a kind of lace-up corset back. It's so damn sexy, but I am dubious about keeping leather clean with all the lube, sweat, fluids etc that will get on (and in) it. The guy in the fetish shop sells leather harnesses and he said 'No worries, you can scrub it with soap if you want, you just have to condition it afterwards', but I'm still dubious about it. I have done a bit of reading on the care of leather harnesses and there are mixed reviews. Some women have said that it just gets 'icky' after a while no matter what, others have had theirs for many years and say that it's still as good as new.
It would be great if you could really for real 'try before you buy' and bring it back if you didn't like it! *laugh*
So do any of you have a favourite strap-on harness? If so, why do you like it?